Top team building activities to drive you into 2022
September 20
• 18 min read
Why team building is important
Keeping your teams engaged, energized and productive isn't an easy task, especially when they're working remotely or at home. It is important to any organisation no matter the size as it helps contribute to what we at Hampr call the three C's, Building culture, encourage communication and increasing collaboration. By incorporating team building exercises employees build trust and a spirit of unity, which help your workforce get on the same page, work together and increase their motivation to complete tasks in a timely manner - in other words increase productivity.
Just as playing sports helps players systematically develop a range of skills comprising their athletic ability; team building helps workers improve skills across different aspects of teamwork, such as delegation, trust, and of course accountability.
The Benefits of team building
Foster friendships among team members
Boost company culture
Drives team cooperation and collaboration
Create shared memories and talking points
Boost team spirit and morale
Inspire productivity and motivation
Breaks up the monotony of the work week
Stimulates creativity and innovation
Humanises the remote workforce
The Challenge (Post COVID)
With so many workers running and attending meetings through Zoom, Microsoft Teams and Google Hangouts; sometimes they need to take a break from being on-camera or in meetings in general, so when planning a virtual team building activity with your colleagues - you want to make sure it's well worth their time and everyone gets significant value out of it.
Remote working has created a huge shift in the way companies introduce fun and engaging activities for their employees whilst working at home, and with Virtual activities being such a new thing for most companies to implement, it's hard to know what you're getting into, and what to expect with some of the options available out there - It also really depends on your working culture, and some of the experiences your teams would like to expect!
You've probably completed a few rounds of posting your staff a number of care packages over the past few months and looking for something different ways to engage your workers, maintain culture and increase connection.
The Solution
At Hampr, we understand the utmost importance of maintaining the mental health and wellbeing of the individuals that make up your organisation, which ultimately affects your organisational culture and how individuals are seen and heard. It is ultimately our job to give you the confidence to organise something that well suits your culture and your employee's tastes so you can maintain those social bonds, trust and engagement with your colleagues all-year-round.
Here are Hampr's top rated virtual team building experiences that are sure to give your workers an unforgettable time, and help drive your organisation into 2022:
Remember those morning coffee routines you and your colleagues had before heading into the office in the morning? Well Coffee on Cue offers a virtual coffee experience like no other. With more events shifting to online, finding fun and unique ways to bring people together in a virtual setting has never been so important. Coffee on Cue sends curated coffee and tea brewing packs directly to virtual event attendees, and brings them together for a light-hearted, interactive virtual barista masterclass. It's the perfect way to kick off the morning, or included as a breakout session to boost engagement across the group.
How it works: Enquire using this link, confirm your attendees including delivery addresses and select a brew pack to be delivered based on your budget. Once care packages are delivered and a date is confirmed, join the live masterclass using the link emailed to each recipient.
Embark on a virtual captivating space journey with no boundaries in time and space with your colleagues on this unique experience led by astrophysicist Dimitri Douchin (PhD)- all from the comfort of your couch. Join Blue Mountains Stargazing on Zoom for a fun, interactive and insightful online astronomy tour and fascinating story telling. This immersive live experience includes an introduction to the Southern Sky and navigation tips, Hovering over Jupiter, Saturn and Venus, Constellation storytelling through the lens of different cultures and interactive games throughout the session.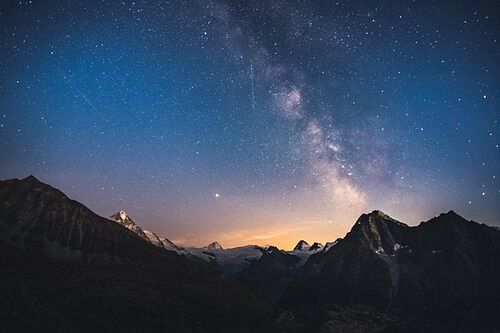 How it works: Enquire using this link. Confirm your attendees and select a date/time to run the session. A Zoom link will be sent 24 hours before the tour. Please keep in mind to leave your camera on during the tour.
There's something about Magicians that everybody loves. Magic Mike's virtual Magic Show is highly interactive, engaging and educational - you'll learn your very own magic trick with everyday house items to keep up your sleeve for life! As a full-time magician for over 10 years, Michaels charming personality and personable approach will cause your colleagues to think he's part of the team. This is a great option for getting the team together online to socialise and have a bit of fun after a long week's work.
How it works: Enquire using this link, confirm your total number of attendees. Select a 30 minute or 60 minute session. Once a date is confirmed, join the live magic show using the link emailed to each recipient.
Join Nene in creating yummy Johnny Cakes in a n online interactive cooking class. Learn about aboriginal culture and the history behind Johnny Cakes. This cooking experience uses a simple recipe that is delivered to all participants prior to the event. This is a 45 minute class that will teach you the ways of making indigenous bush tucker foods for the more adventurous palate.
How it works: Enquire using this link, confirm your attendees including delivery addresses and select an ingredient pack to be delivered. Once care packages are delivered and a date is confirmed, join the live masterclass using the link emailed to each recipient.
One of Australia's top live performance artists - Sarah Rowan delivers an online inspirational masterclass, guiding you through the pro tips and techniques of crafting beautiful watercolour paintings, and inspiring you with stories of creativity and imagination along the way. A colourful and creative 'paint and sip' team-building activity led by a charismatic, larger-than-life artist to lead you and your team through your watercolour masterpieces! All equipment inclusive; watercolour paint kits including watercolour paints, pans and brushes sent to your doorstep.
How it works: Enquire using this link, confirm your attendees including delivery addresses and a watercolour paint kit will be delivered within 7-10 days. Once care packages are delivered and a date is confirmed, join the live masterclass using the link emailed to each recipient. Classes are best suited for up to 40 attendees.
The aim of this game is to provide fun and collaborative wine education and test your team's tasting skills and the proficiency of their palate because we all like some friendly competition -- all while having a great deal of fun together. Whether you're looking for something to break up the week or to finish the week off with a bang, this team game can be played anytime, with as many people as you choose, using your own virtual conferencing or their zoom! Simply advise your wine budget, and Shorty's will source the wine for you and organise the kits and instructions to be sent to the host and the players.
How it works: Enquire using this link, let us know your budget. Confirm your attendees including delivery addresses. Shorty's will pick, pack and dispatch a tasting kit including tasting notes and game instructions. Choose a date/time with the team, and on the day - your host Phoebe Gibson will take you through the tasting!
This course will focus on bringing bar standard drinks into your own kitchen. Guests will get to dive into the world of creative flavour exploration and learn the fundamentals of drink balancing. Starting the session, guests will construct one of the most influential and historical cocktails; The Daiquiri - with a window to influence their drink into something more customised to their own palate. The second part of the session entails creating two additional cocktails from our menu that will celebrate the ingredients that you might just have at home.
How it works: Enquire using this link. Make your selection of cocktails for this online masterclass, and choose a cocktail kit for delivery. Confirm attendee numbers including recipient addresses and choose a time for the session to be held. Join via Zoom link and enjoy!
The Go Game combines all of your favourite team games within an easy to use video conferencing interface to help your team stay connected when working from home. This popular game incorporates hilarious challenges including charades, trivia, Pictionary and more! Facilitated by professional and entertaining Pinnacle Team Events host, the Go Game is played using any modern browser so there's no need to download any software or apps.
How it works: Enquire using this link. Confirm the amount of guests and attendees for this experience and make a booking. Confirm a date & time for your event. On the date of the event, join the access link provided by Pinnacle Team Events and enjoy the game!
This experience is jam packed with a fun array of questions covering Music, Geography, Pop Culture and History. This legendary (as seen on TV) Trivia Host is Breko's Trivia will put on a real show that will keep the entire team laughing! Unlike individual online trivias, you get to play in teams, with virtual break out sessions to trade thoughts and come up with answers.
How it works: Enquire using this link. Choose a package and confirm the amount of guests/attendees for this experience. Confirm a date & time for your event. On the date of the event, join the video conferencing software of your choice and have James Breko take it away!
If you've got a few hours on hand, we recommend this authentic Indian 5 course meal cooking class that teaches you the art of cooking diverse dishes from the North, South, East and fusion. This class is aimed to increase your knowledge of preparing, cooking and growing various fresh and local ingredients to create a sustainable approach to food. Menus can be customised and tailored to suit your diet. All classes receive a step-by-step checklist & recipes of all dishes including dry & wet ingredients.
How it works: Enquire using this link. Confirm what options work best for you and provide recipient addresses and a date that works for your team. Jump on a zoom call at the agreed date, and start cooking - Entire class to cook a 5 course meal takes approximately 3 hours.
Looking for something else? Check out the entire range of virtual and remote experiences Hampr has to offer via this link, or simply enquire and we'll tailor a solution for you.
(Bonus) Creative ways to build culture for your hybrid workforce
With the list we provided above, here are creative ways to build culture and engage with your teams alongside our suggestions:
1. Celebrate your end of quarter results, or create a fun event after your all-hands meeting with a entertaining magic show or trivia session.
2. Run a fundraiser campaign. Create a company-wide competition and the team or department that wins gets to attend a tailored virtual cooking class or online cocktail party as a prize.
3. Celebrate End of year with your team by dressing up and hosting a virtual Christmas Kringle as a highlight of your festivities.
4. Gather everyone together on a zoom call to cook or make lunch together. Have everyone take and submit a photo of the best 'looking' meal, and incentivise the winner with a prize.
5. Choose a theme based on the meal you're about to make. Get everyone to dress up and have them create the most unique zoom background. Cook and eat your meals together. Finish off with a glass of wine. Best photo wins the game!
6. Create a score-card and send it to your staff. Have your team cook a meal and share it with their neighbour or family and have them score you based on your skill. Highest score wins!
7. Host a mini version of MTV Cribs by providing a tour of your apartments and homes. Perhaps you can even have an MC narrate the tour. Give your team several days notice so they have time to tidy up and prepare for their debut.
Want to organise something with Hampr? Contact us today and we'll tailor a solution for you!
Know someone in your organisation that may like to organise something with their teams?
Forward this article to them today!
Call us: 1300 367 809
Email: hello@hampr.com.au